Stressing Equipment
Anchor Head, Bearing Plate & Wedge Shipment
Recently, TMG delivered 8 containers of Anchor Head, Bearing Plate and Wedge for a project in South Asia. This project uses a mixture of slab anchors of 4 and 5 strand, and multistrand anchors of 3 to 19 strand. All supplied anchors are for 15.20mm strand size. As post tensioning is becoming more popular in developing countries, we are seeing an upward trend in prestressed concrete structure design.
Just 20 years ago, prestressing seems to be a taboo in these developing countries. Despite the fact that post tensioning can bring a lot of tangile benefits to the whole structure, developers and contractors are conservative in accepting the advantages that it can bring. Many were septical and conventional in the way they viewed civil construction. The growth and popularity of internet helped and transformed the development of post tensioning. With information now easily available over the internet, developers and consultants are more well informed and have better understanding of post tensioning. This information-age development also accelerated the transformation and acceptance of post tensioning, from an unfamilar technology to a widely accepted one today.
As market demand for post tensioning increases, the surge in post tensioning accessories supplies also effected the cost of carrying out such construction to be more transparent, thus bringing benefits to developers and contractors. Products like PC strand, Stressing Equipment (Stressing Jack, Pump, Grouting Machine etc), post tensioning accessories (Anchor Head, Bearing Plate, Wedge etc) become widely available and can be delivered with short lead-time.
Below are some photographs of TMG Anchor Head (before packaging) in our storage warehouse, ready for shipment.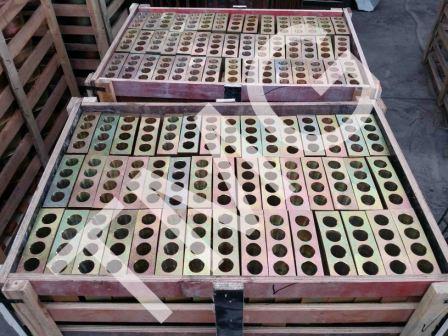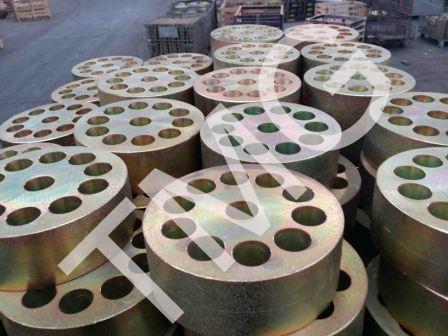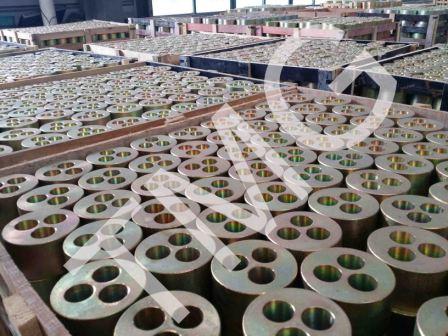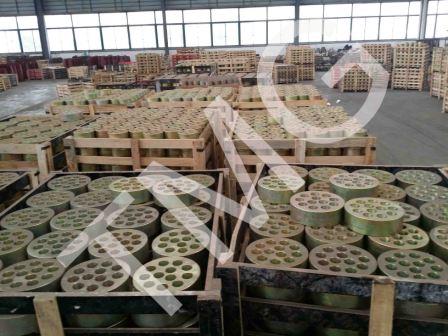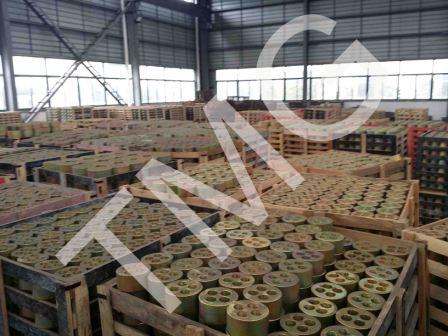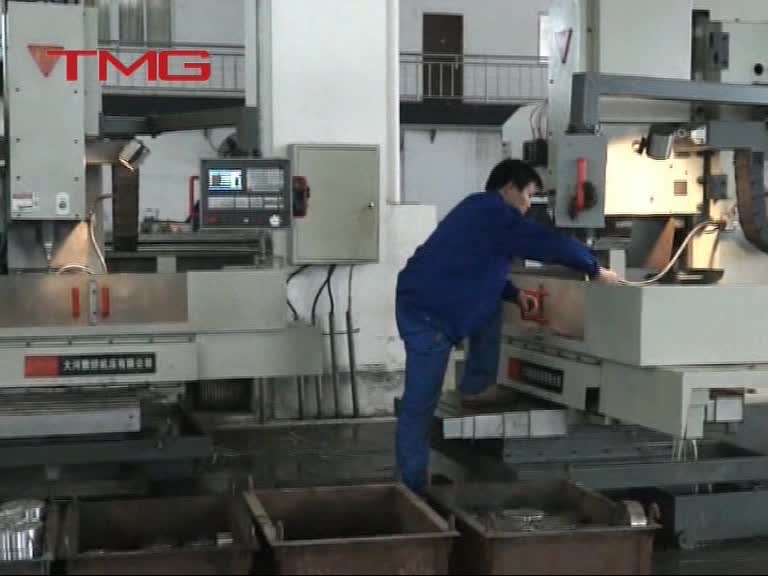 TMG has a few manufacturing facilities catering to different types of products. In the video shown, this is the production area for the manufacturing of
1) Post Tensioning accessories
Anchor Head (1 to 55 strand)
Wedge (9.53mm to 21.80mm)
2) Stay Cable (Bridge Cable) (up to 151 strand)
3) Stressing Equipments
Mono Jack (26 ton)
Stressing Jack (up to 1500 ton)
Lifting Jack
Stressing Pump
Bond Head Machine
Compression Fitting Machine
TMG's capabilities in manufacturing, for high-volume products or in high-mix, low-volume post tensioning related products of the highest complexity, together with years of investments in state-of-the-art process and product technology, sets us apart in the post tensioning industry. Our seamless manufacturing system provides us with total control of the whole manufacturing process, promising product of high quality and good cost efficiencies.
With the help of computerized simulation (3D), we are able to achieve quick set-ups for high-volume production as well as optimized utilization for high-mix, low-volume manufacturing environment with quick turn around time.
We understand every customers' unique expectations and requirements. By leveraging on our invaluable wealth of expertise and capabilities, together with a long history of proven record and successful operations in different parts of the world, TMG strives to exceed customers' expectations and meet the specific challenges.
Stressing Jack is an essential part of post tensioning work. Working with light and versatile stressing tools enables site operators to increase stressing efficiency and productivity. TMG range of Stressing Jacks are designed and manufactured on such principles. We are capable of producing Stressing Jack with capacity from 50 to 1500 tons. And with its small, compact and highly efficient design, these Stressing Jack can operate in confined spaces. Besides that, TMG Stressing Jack can be mix-and-match with any types of anchor configurations. By matching both the Front & Back Plate of the Stressing Jack to corresponding anchor configurations, one Stressing Jack can accomplish the job of stressing a series of different types of anchors. This versatility frees up the additional work for site operator not having to use different Stressing Jacks for different anchors.
TMG Stressing Jack is also designed to be as short as possible. And this will reduce the amount of protruding PC Strand that is needed for prestressing work.
Build quality is also an important aspect of our Stressing Jack. TMG Stressing Equipment is known to be robust and durable, and this is one of the primary selection criteria for site operators as faulty equipment will cause safety concerns to both operators and prestressed concrete structures. And equipment down-time can also cause undesirable consequences to project schedule.
Building on these strong foundations, TMG is the preferred choice for customized Stressing Equipment. Below are some photos of customized Stressing Jacks that we manufactured and they are ready to be shipped to our clients.